SARAH BEAUGEZ
Delta Dirt On My Boots and Salt Water Running In My Veins
September 4, 2015
by Rosalin Moss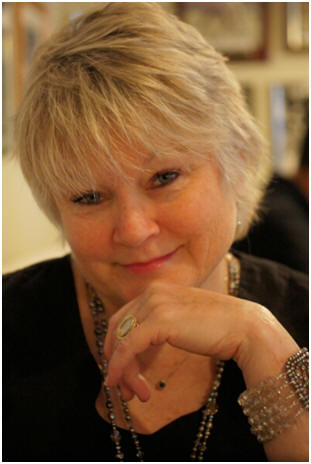 Sarah Beaugez
My first encounter with Sarah Beaugez was through her photography page Coloring Mississippi and the charming, sometimes bittersweet narratives that accompanied some of her photos. Every photographer has their own "flavor" and Sarah's work has a distinct charm, a tranquility of sweet and vibrant colors. Her storytelling brings even more life to her photographs and takes the observer deeper, giving them a clear glimpse of the passion behind the image. I later learned that Sarah Beaugez was also a published author and designer with her own line of jewelry. At the time of this writing, I have not read Sarah's book titled Outer Edge of Grace, published in 2011, but from the reviews, I can tell it is intense and full of passion, and I look forward to exploring more of Sarah's writings. This multi-talented artist has an exhibition going on right now at the Mississippi Library Commission in Jackson, Mississippi, where both her photography and jewelry (Sarah Beaugez Designs) is on display and available for purchase until October 29.
When I actually met Sarah Beaugez, it was easy to see why she produces such beautiful photographs, writes such beautiful stories and creates such beautiful jewelry. What a beautiful spirit this lady has! As we sat talking over lunch at B.B.'s Poboys & Seafood Restaurant in Ocean Springs on an early August afternoon, I realized that I was in the presence of a great lady who was ready to allow her light to shine. And what a beautiful, colorful light Sarah is shining on all who experience her work. There is something tranquil, yet intense, that Sarah manages to capture through the lens of her camera.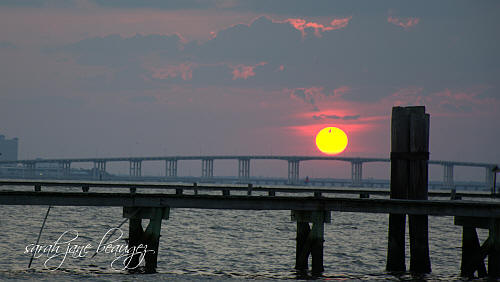 "Que Ball on the Bridge" by Sarah Beaugez
Photograph by permission, courtesy of Sarah Beaugez
Copyright ©2015 Sarah Beaugez. All rights reserved.
Sarah grew up in Ocean Springs and has spent most of her life in Mississippi other than temporarily living in Alabama, Colorado, and Georgia. Having lived in several places and travelled all over the world, I wanted to know if there was a place where Sarah felt most inspired. Her immediate response was that she can create anywhere if she is focused and in the creative frame of mind. She did add, however, that she had "delta dirt on my boots and salt water running in my veins", which I equate to mean that Mississippi is home and the gulf coast and the delta are her favorite places to be.
Beaugez admits to having spent most of her days living what some consider to be the "good life", but also warns that wealth and privilege does not guarantee happiness. Although she did not tell me this, I sense that her current work, her creativity and the avenues she uses for expression are what gives her real happiness today. Sarah talked a little bit about a time when she saw her world in black and white and shades of gray, a time that I sense was not pleasant. But then she found color, and now she wants to share her experience of that color with the world. When I asked her to help me to understand better what she meant by "color", Sarah said this ". . . choosing to breathe, choosing to live richly, being alive, choosing to enjoy the sunrises and sunsets." She also said that we have the color of the rainbow in our lives every single day, we just have to stop long enough to see it, and to capture it with our eye or camera.
People are Sarah's favorite subjects to photograph. Her objective is to help the subject disengage from the camera so she can capture the true essence of the person. She prefers outdoor versus indoor photo shoots and says "photography is a way for me to capture in a single image what I work to paint with words". Jewelry and pets are her most difficult subjects to photograph.
Our conversation was mainly about her photography, but I did get a firsthand look at some of her exquisite jewelry! I am certain that Sarah approaches her jewelry-making with the same passion that she does with her photography and writing. If you are fortunate enough to actually see her work firsthand, you will be blown away by her beautiful designs and craftsmanship.
The last thing I asked Sarah was what would she want to be quoted as having said? Her simple response was "But by the grace of God, go I". She added that "It would be very humbling for anyone to quote me on anything." With respect to such a modest reply, I expect to see greatness from this beautiful and talented artist. All the more reason I am glad I gave in to the urge to purchase one of her beautiful bracelets now because I might not be able to afford it in the future! And, oh my, what if she decides to stop making jewelry! Oh well, I have already secured my Sarah Beaugez designer bracelet!
Talking with Sarah Beaugez was not like an interview at all, it was like chatting with an old friend. There is nothing pretentious or harsh about this gifted southern lady. Genuine to the bone, Sarah has an inner beauty that, I believe, can only be achieved when one realizes that "color" is what life is really all about. As Sarah put it, . . . "the sun on my face, the wind in my hair . . . sometimes we would just get in the truck and ride the delta countryside, singing and laughing . . . enjoy the moment, seize the moment, with whoever or whatever is in the moment, and share it . . . by sharing, I breathe, I live richly".
--Rosalin Moss aka Mississippi Traveler
September 4, 2015