September 1, 2021
by Rosalin Grace
The La Pointe - Krebs House and Museum
Mississippi's Oldest Standing Structure Reveals Early Coastal Life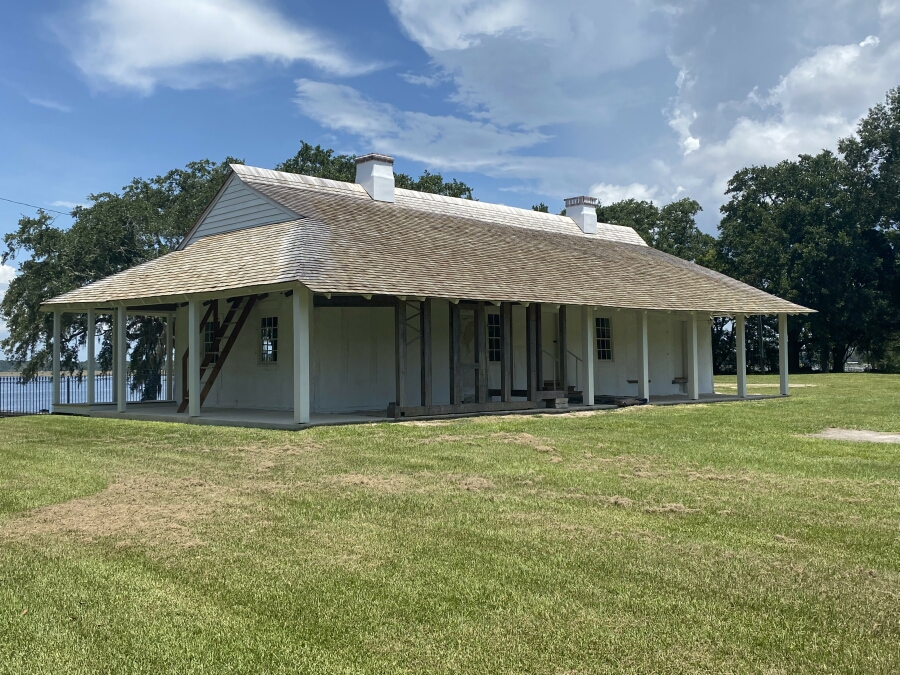 La Pointe - Krebs House in June 2021
Visit website - Follow on Facebook
Photograph courtesy of La Pointe - Krebs House and Museum
The La Pointe - Krebs House is the oldest home in the state of Mississippi, and has been scientifically confirmed to be the oldest standing structure in the entire Mississippi River Valley. Full of history about early coastal life, this house is located on beautiful grounds with a breathtaking view of Krebs Lake from the rear. There is also a museum located onsite that is full of artifacts that give visitors a good glimpse of what life was like during the time when the house was occupied and through the centuries.
The house was built by Hugo Krebs in 1757, after inheriting property from his father-in-law, Joseph Simon de La Pointe, by way of marriage to Marie Josephine Simon de La Pointe. Historic details about the house and its occupants can be found on the La Pointe - Krebs House and Museum website. This August, restoration efforts wrapped up on the home, returning the 264 year old structure to its 1820 floor plan and addressing issues from deterioration, formosan termites, dry rot, and Hurricane Katrina. Phase one of restoration commenced in 2013 with the selection of an Architectural Conservator, and stabilization. Phase two consisted of the more visible aspects, including new roofing. Funding was provided by the City of Pascagoula, Jackson County Board of Supervisors, Main Street Pascagoula, Mississippi Department of Archives and History, MS Gulf Coast National Heritage Area, MS Department of Marine Resources, a grant from the Mississippi Legislature, and various individual donors. The house and museum are open 7 days a week for tours but closed on major holidays.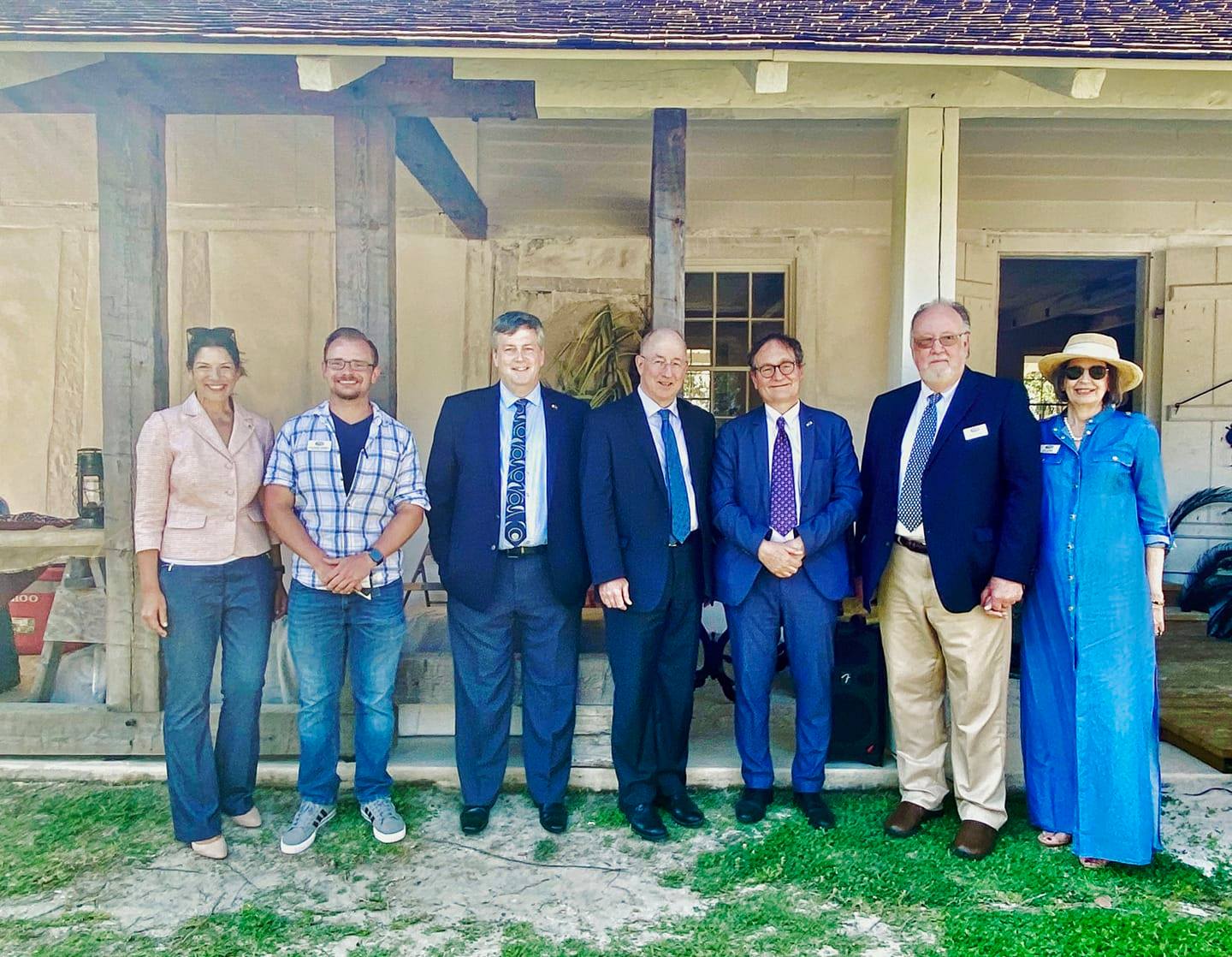 Re-dedication of La Pointe - Krebs House and Hugo Krebs Birthday Celebration.
From left to right, Honorary Consul of France in Mississippi, Keltoum Rowland,
La Pointe - Krebs House and Museum Executive Director, Matthew Powell,
Consul of Canada in Atlanta, Kirk Duguid,
Honorary Consul of Germany in Mississippi, Peyton Prosper,
Consul General of France in Atlanta, Monsieur Vincent Hommeril,
La Pointe - Krebs Foundation Board Member, Judge Robert Krebs, and
President of La Pointe - Krebs Foundation, Liz Ford.
Photograph courtesy of La Pointe - Krebs House and Museum
All rights reserved.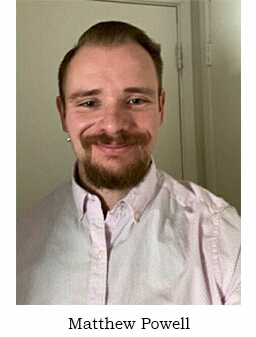 A chat with Matthew Powell, a historian of slavery and southern history and Executive Director of the La Pointe - Krebs House and Museum, was a pleasant and educational experience. Mr. Powell has extensive knowledge about this historic site and genuinely enjoys sharing what he knows. We both agreed that most Mississippians probably have no idea what a treasure they have sitting right there in Pascagoula. Powell shared that he had grown up in Olive Branch, but until he started living and working on the gulf coast, he had no knowledge of the La Pointe - Krebs House or its history. I can also say that during all of the years that I lived in Mississippi, even living next door to Pascagoula, I had no knowledge of this historic site. One of the things Powell wants to do is make all Mississippians, and those interested in Mississippi, aware of Mississippi's oldest home, a home that has provided shelter and livelihood, withstanding many storms over the centuries, and now provides us with a glimpse of what gulf coast life was like so long ago. "I really hope to make this site one of the top visited places in the state. I really think this is where everybody needs to start, when they visit Mississippi because we tell the full story of Mississippi and Gulf Coast history, starting 10,000 years ago with the aboriginal peoples living here at the end of the last ice age," says Powell.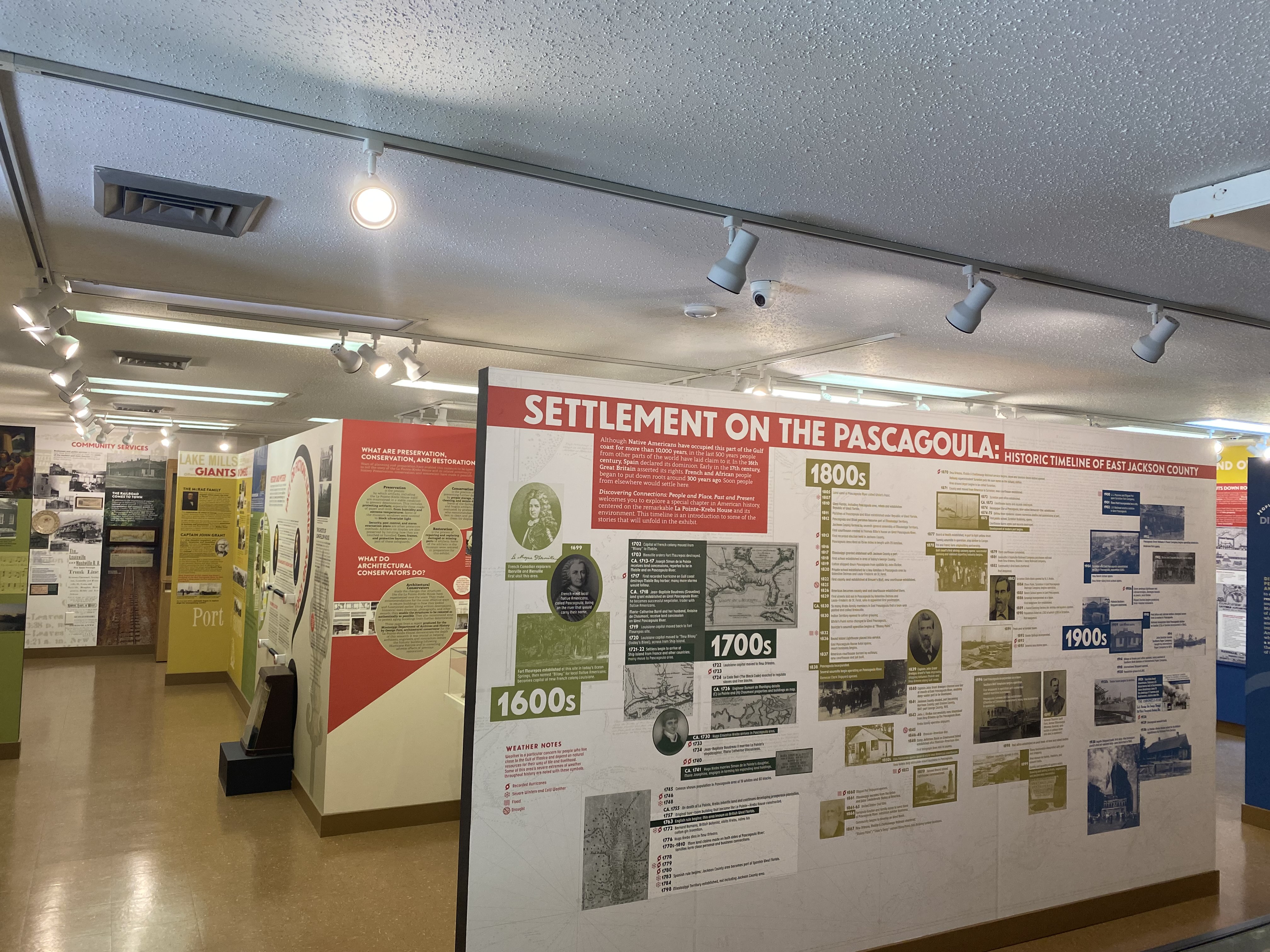 La Pointe - Krebs Museum
Photograph courtesy of La Pointe - Krebs House and Museum
All rights reserved.
I wanted to know from Mr. Powell why should people want to visit the La Pointe - Krebs House and Museum, and why is it important that they do so? His reply was, "The La Pointe - Krebs House and Museum has something to offer everyone who is interested in various aspects of history. Not only is the site historically significant given its status as the oldest home in Mississippi, it's also anthropologically significant because of all the archeological digs that have unearthed artifacts that give us insight into the other groups of people outside the La Pointe and Krebs family. Through these digs, we learn about all the groups who were an integral part of the Mississippi gulf coast during the 264 years the home has stood, and even before its existence. We are talking about the Native Americans, French, British, Spanish, African (both free and enslaved), American Colonial, and others. All of which are interpreted in the museum that sits adjacent to the home. Also, the home is unique because it is the only existing tabby structure on the entire gulf coast. In addition, it's one of two French colonial architecture buildings left between Texas and Florida. There are certain intricacies about the house that add to its uniqueness. For example, the original tabby walls of the home have shells within them, oyster shells, that were dug out from Native American trash pits called middens. In short, the home is a kind of amalgamation of Mississippi culture, and the museum as well, because it tells you a full history of Mississippi centered around a 264 year-old structure and its inhabitants."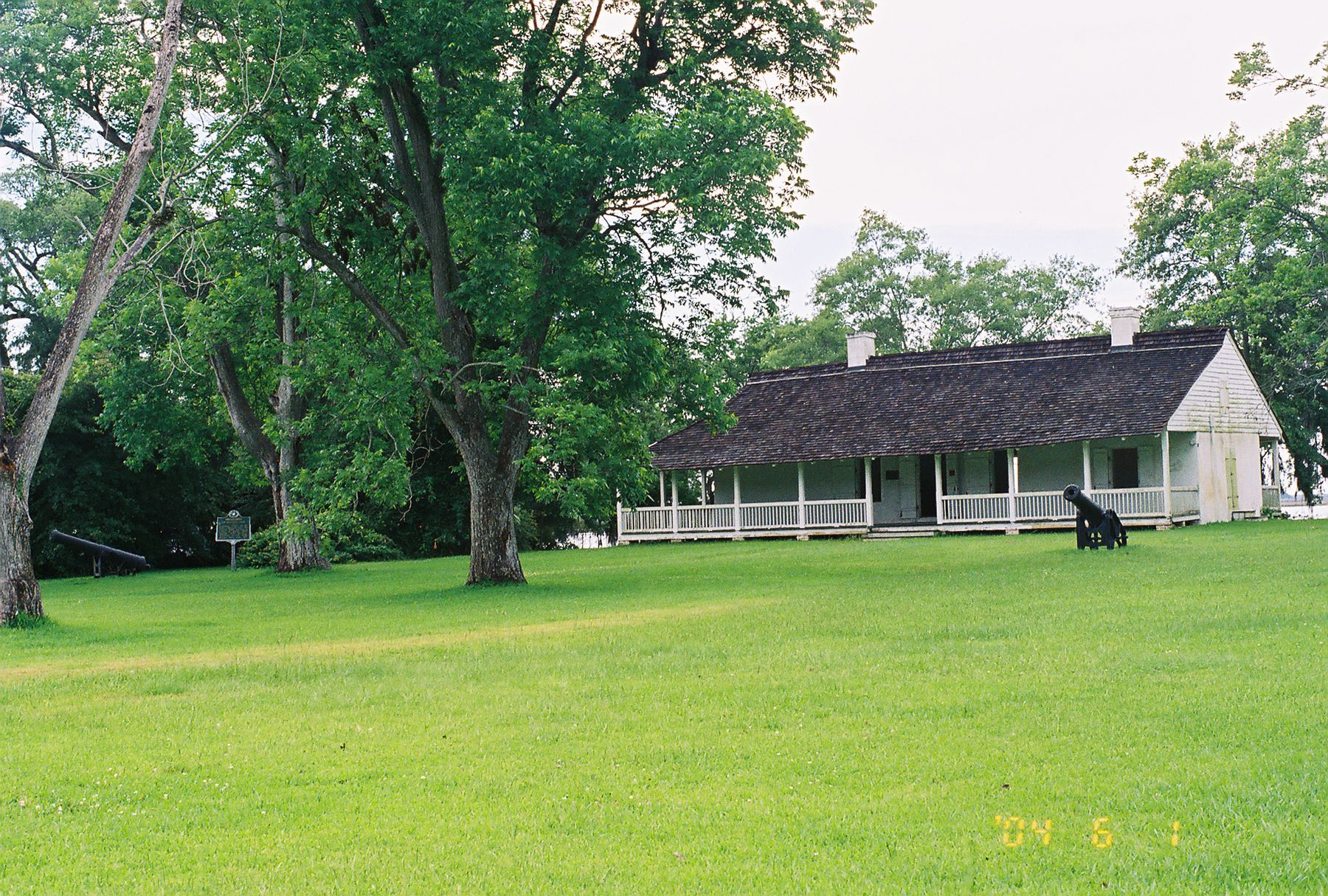 La Pointe - Krebs House in June 2004
Photograph by The Mississippi Club. All rights reserved.
The La Pointe - Krebs House and Museum is definitely an important part of Mississippi's history and a place that every Mississippian should be aware of. I consider myself fortunate to have visited this unique house in 2004 before Hurricane Katrina came ashore in 2005. I was able to go inside of the house and photographed one of the fireplaces. I was also able to walk along the porch that surrounded the house, and onto the back porch overlooking the lake. It was a very pleasant experience and had me dreaming of having a house with such a wonderful porch and view! I wrote a short piece about the visit and shared it with my followers at the time. I look forward to seeing the updated versions of the house and museum in the near future.
This historic site is a must-see when you are on the gulf coast. Anyone visiting towns in the surrounding area (Bay St. Louis, Gulfport, Biloxi, Ocean Springs, Mobile, Alabama, etc.) can easily get to Pascagoula to see the oldest house in the state. It is a pleasant drive along the gulf coast, and once you have finished touring the house and museum, Pascagoula has some great restaurants for dining and comfortable places to lodge, if you need them.
Old photo of La Pointe - Krebs house and occupants.
Photograph courtesy of La Pointe - Krebs House and Museum
All rights reserved.
The La Pointe - Krebs House and Museum has an upcoming event on October 28. The Krebs Cemetery Tours is an annual event and features character portrayals of those buried in the Krebs cemetery. If you have not visited the house and museum yet, the cemetery tour is the perfect time to come out and learn more about the house and its occupants. The event is free to the public, however, donations are encouraged and gratefully accepted. Please visit the website for visitation and event details. You can also follow La Pointe - Krebs House and Museum on Facebook to keep up with the latest news and events.
In conclusion, I cannot help but think that this place has been preserved for a reason. From 1757 until now, this house has prevailed. Hurricane Camille nor Hurricane Katrina could destroy this house. Imagine, if houses could talk, what stories this place could tell. But even in silence, this house speaks so much, revealing the life of centuries past. No other house in Mississippi can take you this far back in time. This is the oldest house in the great state of Mississippi. Your knowledge of Mississippi history cannot be complete without a visit to the La Pointe - Krebs House and Museum in Pascagoula, Mississippi.
--Rosalin Grace
The Mississippi Club
September 1, 2021