What Kind Of Man Are You?
New Stage Play by Jackiee Francis-Howard Productions
March 6, 2020
by Rosalin Moss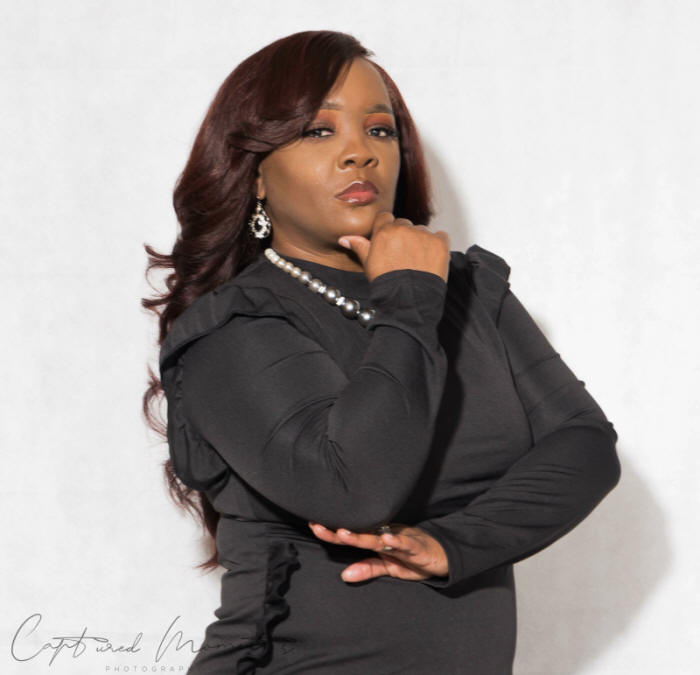 Jackiee Francis-Howard
Photo courtesy of Jackiee Francis-Howard
Website: https://jackiees.ecwid.com/
Facebook: https://www.facebook.com/Jackieeplays/
There is excitement and purpose in the voice of Jackiee Francis-Howard as she tells me about her new stage production scheduled to open on April 17, 2020, in Pascagoula, Mississippi. Without revealing exactly what the play is about, she lets me know that this production is different from anything she has ever done before, and will bring to light some complicated family issues that are oftentimes kept secret. Francis-Howard assured me that "What Kind of Man Are You" is not about the character of a single man, but touches on the character of various members of two families. Her ultimate goal is to enlighten and to give others the courage to address their own personal issues, realizing that they are not alone.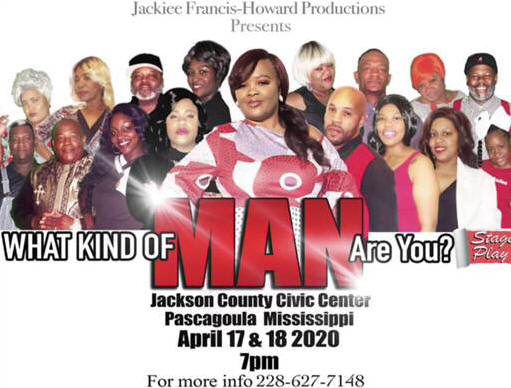 Photo courtesy of Jackiee Francis-Howard
In addition to being a professional hairstylist, Francis-Howard has been writing, directing and producing since she put on her first play, "The Wright Way", back in 2001. She went on to write, direct and produce "The Lady In Red", "Who's Next Door?", "The Choices We Make", "A Real Woman Is Hard To Find", and "Where Are All The Real Men". All of her previous plays were presented as gospel plays. Now, her seventh production, "What Kind of Man Are You", is marking a new direction in Francis-Howard's playwriting and could very well prove to be the turning point in her work as a stage production artist. Her total confidence in being an instrument of a higher power is what gives Francis-Howard the drive and courage to bring forth a realistic view of average family life and the problems that exist therein.
This new way of writing her stage scripts was a struggle for Francis-Howard at first because of her deeply spiritual way of thinking. Initially, it was worrisome to her to use certain types of words and expressions that she considered ungodly. However, she also knew that real people, real families spoke and acted in many different ways and used all manner of language. After wrestling with this conflict and after many talks with God, she believes that she has overcome her fear of saying the wrong thing. Francis-Howard says, "God delivered me from that battle and now I don't worry about what people will say." She has chosen to present "What Kind of Man Are You" in a fashion that is relatable to a general audience, but still packs a powerful and mind-blowing moral lesson.
Working with her largest cast ever, Francis-Howard stresses how hard everyone has worked and how the cast fully realizes that this production is very serious and very much a ministry. She cannot thank them enough for their dedication to bringing her vision to life on stage.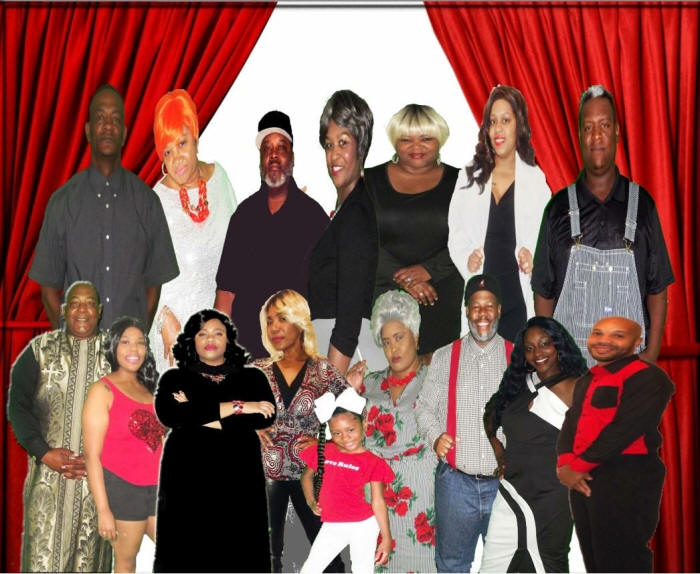 Photo courtesy of Jackiee Francis-Howard
Cast Members:

Karen Fountain

LaDarrius Viverette

Jacqueline Purifoy

Melody Coles

Thaddeus Fairley Sr.

Rachel Chandler

Charles Wilson

Morgan Wilson

Angelique Wilson

Montrelle Ramey

Eric Bolton

Adrian Kirkland

Carla Smith

Joykenia Hill

Dyneisa Polk

Charlotte Brown
After working on the "What Kind Of Man Are You" script for three years, Jackiee Francis-Howard believes she has produced a work that is realistic and enlightening. "Some of the scenes are very powerful and mind-blowing, even for me, and I wrote it," she said. She praises her cast and is very grateful to them for all of the hard work they have done. "It has been challenging for me and the cast, but we are working with it. The cast knows that this play is ministry that can deliver somebody, heal somebody," she says with passion. "I give all credit to God. He gave me this message. There is nothing special about me, I'm not perfect, just a vessel for God. I just open myself up and allow God to use me," Francis-Howard humbly states. She thanks God for giving her the ability to move this play from scene to scene and bringing it all together at the end for good.
Although she is not classifying "What Kind of Man Are You" as a gospel production, it is clear to me that Francis-Howard will be ministering to the audience throughout the play, seeking to enlighten and deliver whomever will partake of what she and her cast are offering. It is also clear to me that this lady is suited up and ready to go to war on some issues that many families face. Sometimes you just know when you are in the presence of greatness, and I knew it for sure when Jackiee Francis-Howard said about her perception when she is working in solitude on her scripts, "I see you devil, I see you. And God has given me a platform to put you right in front of the people so they can see you too."
--Rosalin Moss
The Mississippi Club
March 6, 2020