November 8, 2019
by Rosalin Moss
Clarksdale: A Mississippi Magnet
<![if !vml]>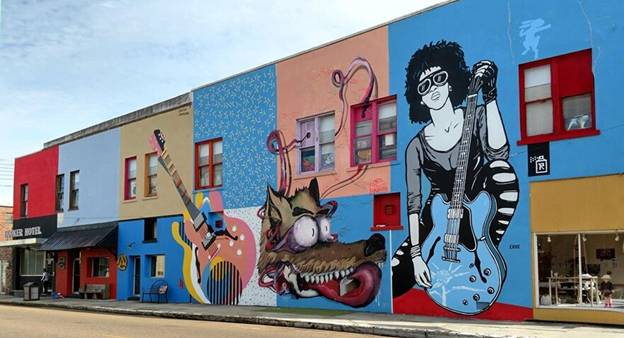 <![endif]>
Photo courtesy of Mark J. Benson
Why do people come from all around the world to a small city in the Mississippi delta called Clarksdale? On any given night, you might meet someone from Norway, Australia, Spain, Ireland, France, California, Louisiana, Texas, Michigan, Ohio, or anywhere else in the world. There must be something special about Clarksdale that makes people want to come and see and taste. What is that something special?
Maybe that special something is the people who live in Clarksdale. During my visits to Clarksdale, the local residents were friendly and full of hospitality. The high-profile locals are interesting people and it is always a highlight when tourists get to meet and talk with the local celebs and business owners, such as Morgan Freeman, Bill Luckett, Roger Stolle, and Red Paden. Someone always has a good story to tell about one thing or another, and there is never a hurry in telling it or listening to it. Good, interesting people and good conversation is something you will always find plenty of in Clarksdale. And if you want to learn more about Clarksdale and the surrounding area, I recommend contacting Billy Howell at Delta Bohemian Tours for a great tour and some great conversation.
When it comes to places to lay yourself down for a good night's sleep, Clarksdale can offer you everything from down homey shacks at the Shack Up Inn, to upscale elegance at The Clarksdale White House and Clark House. The Ground Zero Blues Club has rooms to rent upstairs over the club, which makes it convenient to get your eats and juke on downstairs, then you can make your way upstairs to sleep it all off. Some other popular places to stay are the Hooker Hotel, Delta Bohemian Guest House, Blues Hound Flat, Delta Digs, Shacksdale Motel, and others. Staying at any of these unique places might be worth a trip to Clarksdale all by itself, especially when that sweet Mississippi hospitality is part of the package.
Like most places in Mississippi, when it comes to food, Clarksdale has some great places to eat. With places like Abe's Barbecue, Levon's Bar & Grill, Third Street Bistro, Our Grandma's House of Pancakes, Yazoo Pass, Delta Amusement Cafe, and others, there is no lack of good eats. The Ground Zero Blues Club also serves food and has a great menu.
<![if !vml]>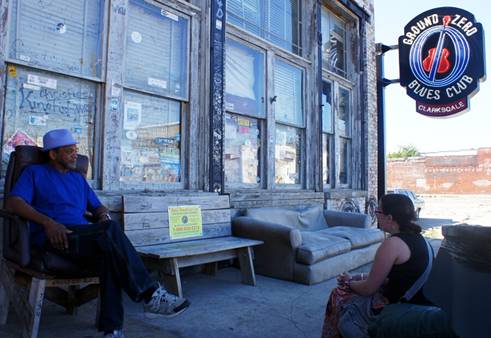 <![endif]>
Photo by The Mississippi Club
Perhaps most people would say that the music is what draws people to Clarksdale. I cannot deny that Clarksdale has some good music going on all the time. I don't think there is a night in Clarksdale where the blues isn't being played live somewhere. Yes, the blues is definitely alright in Clarksdale. With blues spots galore, you can stop in at Ground Zero Blues Club, Red's Blues Club, Levon's Bar & Grill, Hopson Commissary, People's Lounge or Bluesberry Cafe for a real good and bluesy time. Clarksdale also has some great local talent such as Christone Kingfish Ingram, Steve Kolbus & The Clarksdale Blues Revue, Sean Apple, Lala Craig, Super Chikan, and many more. The music is further enhanced by way of several annual festivals--Juke Joint Festival, Sunflower River Blues & Gospel Festival, Deak's Harmonica Block Party, Hambone Festival, and others. You can get your juke on seven nights a week in Clarksdale, Mississippi, and for blues lovers, that is a big plus.
There certainly is something special about Clarksdale, where walking downtown is like being back in another time, when things were simple. For me, it's a place where a lot of things have changed, and some things haven't changed at all. That special something about Clarksdale is what speaks to you as you sit among strangers in Red's Blues Club listening to a bluesman play his heart out--then buying a rib sandwich out front as you leave. It's how raw and free you feel dancing all night on the Ground Zero Blues Club dance floor, sweating and cutting a jig like you never did before. It's sitting on a raggedy, broke-down sofa on the front porch, talking with folks from Norway, and maybe even Morgan Freeman. It's getting to take pictures with some of the local greats. It's walking up and down the same streets that were walked by music greats such as Son House, John Lee Hooker, Sam Cooke, Muddy Waters, and many others. It's listening to a local resident tell a story about Robert Johnson being his relative and that the real crossroads is not where everybody thinks it is.
Yes, it is a combination of things that makes Clarksdale a desired place to visit. Although music is not the only magnet in Clarksdale, I believe it is the crowning glory. But it is more than just the music itself, it is the soul of the music, the history of the music, the evolution of the music, the masters of the music. When you add that gutsy, raw, honest music called the blues to all of that other stuff--great people, good conversation, good food, great hospitality, riveting history--Clarksdale becomes irresistible. Clarksdale is special because it has been touched by greatness, and when you come to visit such a place, you too are touched by greatness.
--Rosalin Moss aka Mississippi Traveler
November 8, 2019