May 4, 2018
by Rosalin Moss
Dr. Cindy Ayers-Elliott
So Proud To Be A Farmer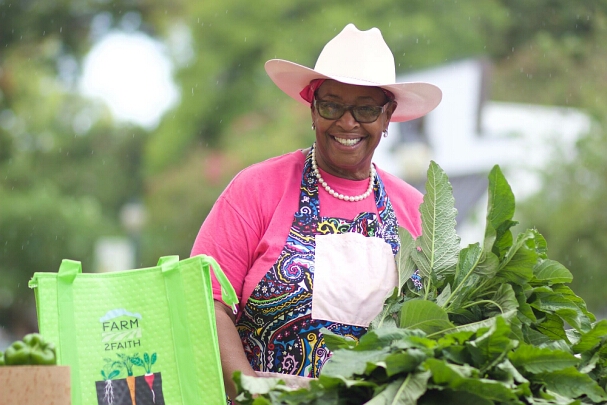 Dr. Cindy Ayers-Elliott, founder of Foot Print Farms in Jackson, Mississippi
The Mississippi Club had been following Foot Print Farms for over a year, and I already knew that the owner was a woman, which I thought was pretty cool, especially since the farm seemed to be a state-of-the-art operation. However, I had no idea just how extraordinary Dr. Cindy Ayers-Elliott really was until I asked her for an interview and started doing a little research on her and her farm. She earned her bachelor's degree from University of Massachusetts at Amherst in 1977 and a master's degree in urban planning and finance in 1990. She worked as an investment banker in San Francisco, Baltimore, Washington, D.C. and New York City. After the 911 tragedy, Dr. Ayers-Elliott, a native of Ashland, Mississippi, decided to return to Mississippi where she worked as the president and chief executive officer of the Delta Foundation, a community- and economic-development nonprofit organization focused on helping the Mississippi Delta. She also helped found the first Black-owned bank in the state, First American Bank in Jackson, and served as an assistant to former State Treasurer Marshall Bennett. Wow, and all of that before she decided to become a farmer! So much had already been written about Dr. Cindy Ayers-Elliott, but I wanted to know more about her life as a farmer and how she felt about the Mississippi land.

In 2010, Dr. Ayers-Elliott decided to turn 68 acres of land she had purchased in Jackson in 1994 into what is now known as Foot Print Farms. Trading in her high heels and briefcase for a pair of work boots and work gloves, Dr. Cindy Ayers-Elliott started on a journey that she now believes led her to her rightful position. Since establishing Foot Print Farms, she is not only growing healthy and affordable food for the local and surrounding communities, she is also helping other farmers to grow their businesses by helping them find more efficient and affordable ways to grow their products, as well as providing a place for schools and universities to research and experiment with new agricultural technologies. Dr. Ayers-Elliott is a firm believer in utilizing what you have available around you, and she takes advantage of co-opting with others in the community to bring about changes for the better. "We try to encourage people to champion an area of agriculture. For instance, we have someone who wants to do bees, someone wants to experiment with drones on the farm as an observation and research tool, and also someone wants to work with earthworms," Dr. Ayers-Elliott said. "The farm is more than just a farm," she added. When I asked if she trained other farmers, she said "Absolutely, especially women farmers and young people. We have veterans, churches, single mothers and some seniors who come to learn how to farm. We also encourage churches to start community gardens." The farm also leases out plots of land to new farmers for hands-on training in exchange for helping with the work of running the farm. Dr. Ayers-Elliott is very passionate about growing healthy food and providing it to the community. She is also passionate about teaching the community to grow its own food by whatever means are available. "You don't need acres of land to farm," she says. "You can farm right in your backyard or on your patio," she adds. The farm's "Farm in a Box" project - a box filled with soil and certain vegetable and herb plants - eliminates any excuses of not having a place to garden. She even encourages people to consider growing certain foods for profit.
Farm in a Box
While talking with Dr. Ayers-Elliott, it was plain to me that she absolutely loved what she was doing. Even though the work is sometimes hard, I got the impression that she would not trade places with anyone else in the world. She recalls that her grandmother wanted her to go get her education, which she referred to as 'armour', and come back to Mississippi to help make it a better place. With a Ph.D. under her belt, along with years of corporate business and financial experience, this lady certainly has her 'armour'. I cannot help envisioning Dr. Ayers-Elliott's grandmother looking down from heaven, smiling and saying "Well done, granddaughter." Foot Print Farms is definitely a huge plus for the city of Jackson and is definitely helping to make Mississippi a better place. In addition to the many things the farm is already undertaking, there are plans to launch an agritourism project that will include cabin lodging on the farm, fishing, horseback riding, lunch on the farm, photo ops and more. Being close to downtown Jackson, this will be an added attraction for Jacksonians and visitors to the capitol city. It is clear to me that Foot Print Farms is an innovative and inspiring entity that seems to have taken on a life of its own. Dr. Ayers-Elliott's openness to new ideas and ways of doing things makes Foot Print Farms an ever-growing, ever-evolving organism. There is no doubt that what she has started at Foot Print Farms will go down in Mississippi's agricultural history as groundbreaking. She is also President of the Hinds County Soil and Water Conservation District, and she is the first woman to hold that position.
One of the coolest vehicles at Foot Print Farms, in my opinion, is the pink veggie bus -- what else would you expect for a lady farmer who wears pearls with her overalls, right? One of the things the bus is used for is to transport food to the farmers market, restaurants and other destinations. The pink veggie bus got a makeover, thanks to actor and comedian Kevin Hart when he came to Foot Print Farms and filmed a Hart of the City show. Dr. Ayers-Elliott also appeared in that particular Hart of the City show. The Food Network and Chef Nick Wallace, Executive Chef at Mississippi Museum of Arts, were also scheduled to film a show on the farm. Additionally, the singer Brandy included Foot Print Farms in a segment on her video release titled Optimistic. The farm is becoming very well known.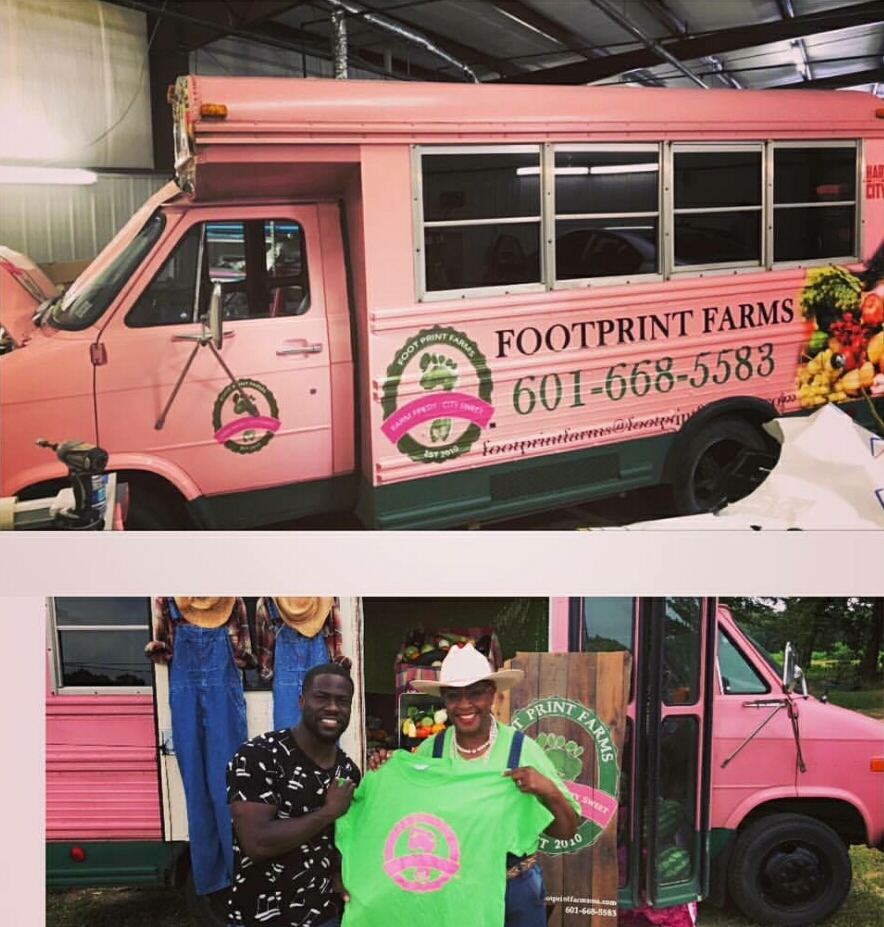 Dr. Cindy Ayers-Elliott with Kevin Hart at Foot Print Farms
Another note to add to Dr. Ayers-Elliott's impressive accomplishments is that she ran for a special election senate seat in 2013. At the time, she thought the senate seat would be a good platform to do more good things for the state of Mississippi; however, she is certain now that she is in her rightful spot. "I don't think I would be able to do as much for Mississippi in the Senate as I can right here doing what I am doing," Ayers-Elliott said. It is evident that she enjoys her hands-on access to the community and being able to offer agricultural students a place to learn and do research. Inner city students also spend time on the farm where they learn things about science, agriculture and nutrition. "Some have gone on to college or into the military service. Some have sought careers in agriculture," she said.
After chatting for a while with Dr. Ayers-Elliott and getting to know more about Foot Print Farms, I was ready to know more about the woman behind this Jackson farm, which, by the way, is the largest urban farm in the state of Mississippi. I learned that Dr. Ayers-Elliott was a widow and had two adult sons and three grandchildren -- Eric, his wife Candice and their daughters Erica and Zoe live in Houston, Texas, and LeGrand, his wife Barbara and their son Christian live in Brandon, Mississippi. Dr. Ayers-Elliott had been an exceptional student in school and had received an Urban Fellows Award, which enabled her to complete her initial college studies. It was clear to me that she was far above average in many ways, but what I found most interesting about Dr. Ayers-Elliott was her concern for her fellowman and community, and the pleasure of giving back. "I traveled the world, did things I thought I needed to do. I feel like I am an instrument and I'm trying to do my part. God has blessed me. It's hard work, don't get me wrong, and sometimes I question it, but then it all comes down to what's it all for -- taking care of this earth, the land and the water." she said. "I'm making a difference with health. If you don't have good health, don't feel good about what you're doing . . ." There is no doubt that Dr. Ayers-Elliott is on a mission to help Mississippi become healthier, and in doing so, she is happier..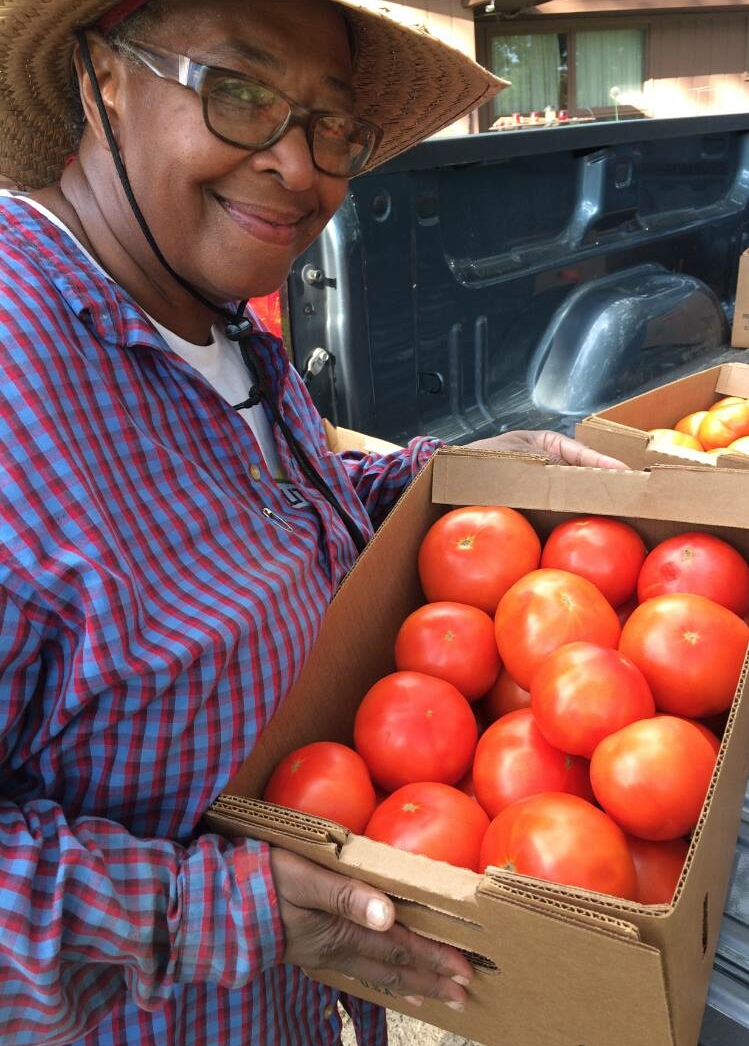 When I asked Dr. Ayers-Elliott if she had any regrets about coming back to Mississippi, she said without hesitation, "I really never left Mississippi. I lived in other places but Mississippi was always home." She added, "I thought certain things were important, things you needed to do. I'm back where I'm supposed to be." And when I asked her if she had a favorite quote or saying, she promptly said, "I'm so proud to be a farmer." I could not help but chuckle because that is something I have seen many times in the Foot Print Farms Facebook posts. And I could not help but hear the enthusiasm and the joy in her voice as she uttered those words. There is no doubt in my mind that Dr. Cindy Ayers-Elliott is truly, truly proud to be a farmer. "I really am," she said. "We need to put pride back into what we do, and I am so proud to be a farmer."
Dr. Ayers-Elliott made sure to mention that Foot Print Farms would not be what it is today without the help of some very talented and caring people who are a very important part of what goes on at the farm. Farmer Daniel Who, originally from Jamaica, and his wife Wendy Who take care of most of the farm's sale and marketing business. Farmers Danny Murray, Curtis Williams and Melvin Davis are also a daily part of farm activities. Dr. Bill Evans, a plant research scientist for Foot Print Farms, has provided priceless guidance for growing good and healthy food. Dr. Ayers-Elliott also expressed her gratitude for major supporter Howard Ashford, as well as Pastor Jimmy Edwards for his spiritual guidance and leadership. In Dr. Ayers-Elliott's own words, these folks are "the wind beneath my wings".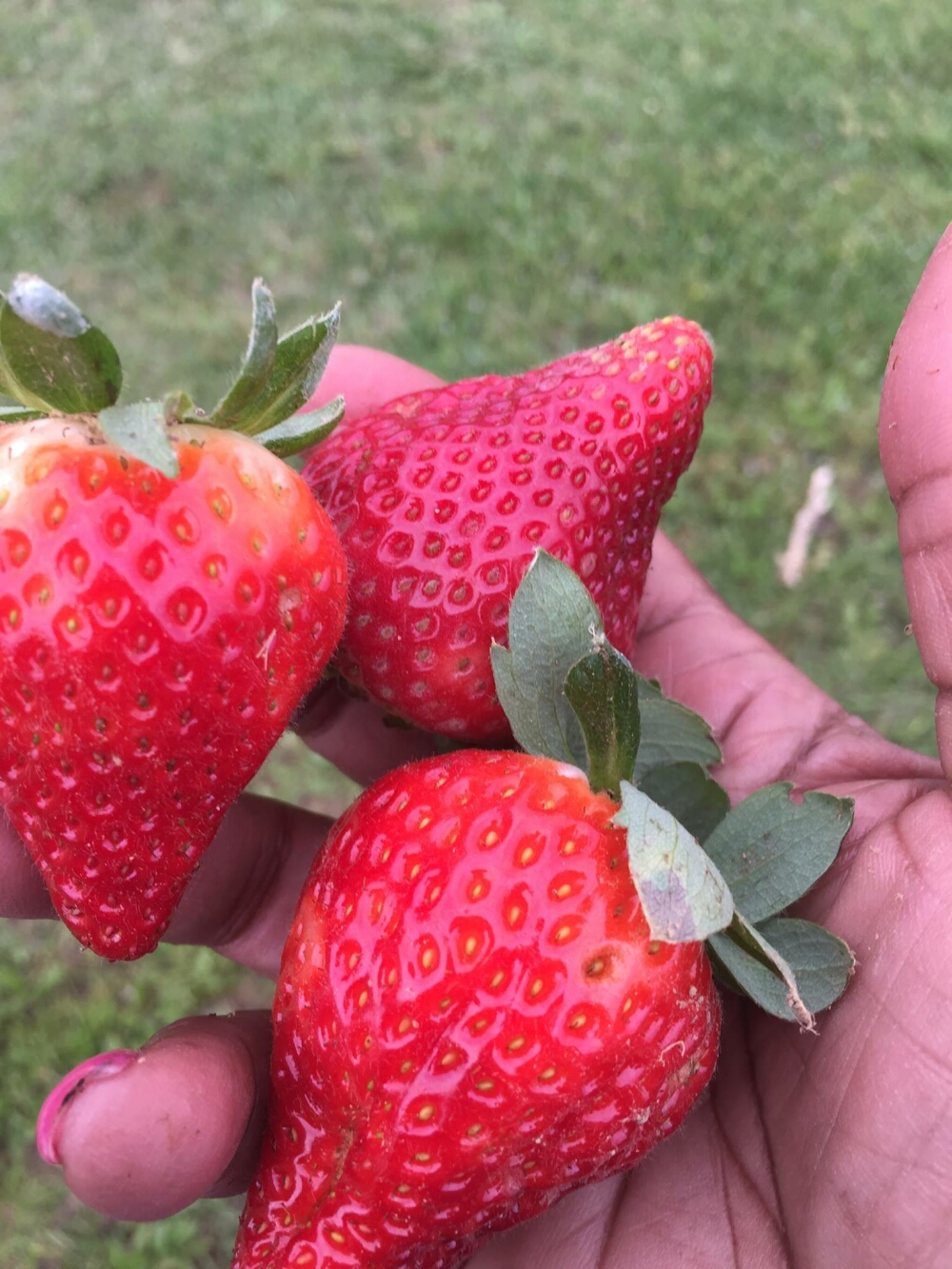 Delving deeper, I wanted to know how Dr. Ayers-Elliott felt about the land, whether the land spoke to her, and if so, what did the land say. "What the land says to me is 'Come and labor in my vineyard. And with that, I will bring you peace'," she said, her voice momentarily sounding somewhat far away. "My health is better than ever," she went on. "I take no medication. I grow great food to help other people to eat healthy. Every morning, I have the opportunity to say it's a great day. Even in the rain when it's muddy, we get a lot done, just doing what we're supposed to do, making a difference, feeling closer to God. The land, the water, even the air make you feel closer to God," she said softly. "I have no regrets."
--Rosalin Moss aka Mississippi Traveler
May 4, 2018